The Experience
Cruise the Dalmatian Coast, dotted with ancient forts and castles, and looking much as it did during the Age of Sail. The yacht Le Soleal hosts guests on this Croatia tour and cruise along the Dalmatian Coast. Thrill to the sight of palaces, cathedrals, walled cities, citadels, and amphitheaters from the Greek, Roman, Gothic, Renaissance, and Baroque epochs in history. Explore UNESCO World Heritage Sites on visits to Dubrovnik, Venice, Kotor, Sibenik's Cathedral, and Diocletian's Palace in Split. Enjoy a wine tasting and a Moreska cultural performance. Spend two nights in Venice taking in the rich treasures of the lagoon city, a perfect complement to your cruise from Venice to the Dalmatian Coast ," all part of the ultimate Croatia tour and cruise experience!
Day 1 Arrive in Venice Meals: D Tauck's Croatia tour and cruise begins at 6:30 PM at Hotel Danieli, Venice. A transfer from Venice Marco Polo Airport to Hotel Danieli is included upon your arrival. Originally built in the 14th century as the Palazzo Dandolo, your opulent, meticulously restored hotel is located in a prestigious setting on Riva degli Schiavoni, close to Piazza San Marco (St. Mark's Square). It has been lavishly restored with pink marble, stained glass, gold leaf and Murano glass chandeliers. Meet your fellow travelers at a welcome cocktail reception and dinner where you are sure to discuss the upcoming Italy and Croatia tour and cruise. Lodging Hotel Danieli Day 2 Sightseeing in Venice including St. Mark's Square and the Doge's Palace Meals: B Your morning begins with a walk to St. Mark's Square, the heart of Venice, with a local guide. Visit St. Mark's Square and go inside St. Mark's Basilica, one of the must-see architectural wonders of Europe with its exquisite mosaics and detailed carvings. You'll visit the Doge's Palace, a pink marble Gothic masterpiece that dates back to the 9th century, pass through the famous Bridge of Sighs, and spend the remainder of the day in car-free Venice as you please. Lodging Hotel Danieli Day 3 Islands of Murano and Burano then your cruise begins Meals: B, D Picturesque islands in the Venetian Lagoon are part of the region's UNESCO World Heritage Site designation along with the city of Venice. First stop is Murano, famous for glass production since the Renaissance days of the 10th century. See how artisans still craft their signature glass in the traditional way at a glassblowing demonstration at a Murano studio. Visit the island of Burano, renowned for lacemaking. Board the yacht Le Soleal, a sleek, innovative yacht launched in 2013. Sip welcome cocktails as Le Soleal departs from Venice for the Adriatic, the Dalmatian Coast and the heart of your Croatia tour. Lodging Le Soléal Day 4 Krka National Park and Split followed by the captain's welcome dinner Meals: B, L, D Le Soleal docks in Sibenik, and your Croatia tour begins. See the Cathedral of St. James, illustrating the transition of Gothic to Renaissance church architecture. A scenic coastal drive along the Adriatic takes you to Krka National Park for a short interpretive walk and some time to explore – the Krka River, waterfalls, lush canyons and a multitude of birds makes it special. Arrive in Split, Croatia's second-largest city, where you'll visit the gallery of the renowned 20th-century sculptor Ivan Mestrovic. Next, a walking tour showcases the remains of Diocletian's Palace, built between the 3rd and 4th centuries, whose well-preserved ruins house shops, homes, and one of the world's oldest cathedrals within their ancient walls. Spend a little free time in Split, then return to Le Soleal for the captain's welcome cocktails and dinner; your ship remains dockside in Split this evening. Lodging Le Soléal Day 5 A day on the island of medieval Korcula Meals: B, L, D Continue your Croatia tour as you explore the island of Korcula, birthplace of explorer Marco Polo, and its medieval walled city with Cathedral Square at its center. A guided walking tour includes its most famous house, the Museum of Icons in the church, and the Cathedral of St. Mark, decorated with statues on the façade. You'll also be treated to a firsthand look at the island's folkloric traditions with a private Moreska dance presentation of a Moroccan folk story, performed only in this town. Enjoy some free time into this evening to explore on your own. Lodging Le Soléal Day 6 Along the Dalmatian Coast for a day in Dubrovnik Meals: B, L, D Tauck's Croatia tour and cruise heads along the Dalmatian Coast to the next port of call – the great walled city of Dubrovnik, the "Pearl of the Adriatic" – where the day begins with a private lecture aboard the ship by Croatia's former Minister of Tourism. Dubrovnik's magnificent Old Town was declared a UNESCO World Heritage Site due to its wealth of Gothic, Renaissance, and Baroque churches, monasteries, palaces and fountains, not to mention its splendid medieval ramparts. Join your local guide for a walking tour visiting the main square, Dominican Monastery, the Rector's Palace and the Dubrovnik Synagogue. Then spend the rest of the day as you please, strolling along the city's impressive ramparts overlooking the sea or visiting the Maritime Museum in St. John's Castle. Lodging Le Soléal Day 7 World Heritage in Kotor, Montenegro Meals: B, L, D Head to the observation deck as Le Soleal sails into Montenegro's Bay of Kotor, Europe's southernmost fjord – the view is inspiring and unforgettable. The bay and the city of Kotor are UNESCO World Heritage Sites in recognition of their natural and cultural uniqueness. Upon arrival, take a drive up a dramatic mountain road to a tiny village for a tasting of local wine and cheese – and an unbelievable view! A guided walking tour in the village of Kotor includes a visit to the Maritime Museum of Montenegro, housed in an 18th-century Baroque palace, and one of the city's Romanesque churches. Back aboard the ship, enjoy a Tauck exclusive – a private a cappella  performance by a local female singing group as you head out for an evening's sightseeing on the water. Lodging Le Soléal Day 8 Wine tasting on the chic island of Hvar Meals: B, L, D Experience the enchanting island of Hvar, a well-known playground for international celebrities and royalty. Sightseeing with a local guide includes a tour of Hvar Town, where you'll get a good look at its intricately carved Venetian architecture. Admire the views from the hilltop Spanjol Fortress, where you'll look out over the red-tile-roofed town below. The Dalmatian Coast produces some exceptional wines; a wine tasting at a local winery gives you an opportunity to sample the grapes before spending some time as you please in Hvar. As your Dalmatian Coast cruise and Croatia tour continues, you can capture the scenic beauty of the coast from the outside decks of Le Soleal. Lodging Le Soléal Day 9 Pula & Rovinj on the Istrian Peninsula Meals: B, L, D New discoveries along the lovely Istrian peninsula, near Croatia's border with Italy on the northern Adriatic coast, begin in the town of Pula, well-known for its Roman antiquities. Visit the Roman Amphitheatre, one of the best preserved in the world, as well as one of the largest. Travel the sweeping countryside to the fairy-tale village of Rovinj for a walking tour; it is one of the most photographed places in Croatia. As Le Soleal cruises back to Venice and your Dalmatian Coast cruise and Croatia tour draws to a close, enjoy a farewell cocktail reception and dinner on your last night at sea with your new friends. Lodging Le Soléal Day 10 Your Croatia tour ends Meals: B Tauck's Dalmatian Coast cruise and Croatia tour ends at 9:00 AM at Venice's Marco Polo Airport. Disembark the ship for an 8:30 AM coach transfer from the dock to Marco Polo Airport. Allow a minimum of 3 hours for check-in at the airport.
LESS

The Route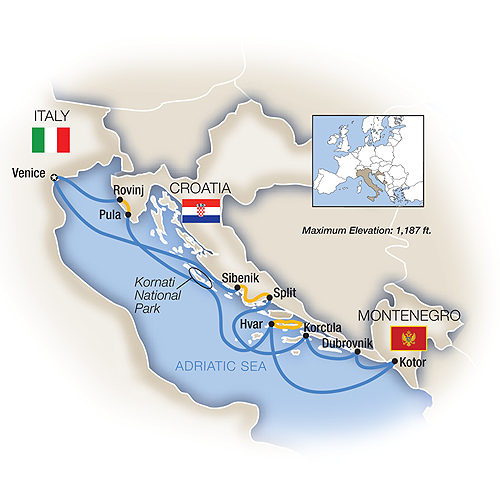 Start with our
vacation planner
so we can match you with our most suitable travel advisor. We do it all for you, air, car, accommodations, tours, you name, it in a seamless luxury vacation experience you will treasure for a lifetime.