The Experience
Soak up the medieval flavor and ancient traditions of charming hilltop towns
Taste splendid wines, like Sagrantino, Montefalco Rosso and Vino Nobile di Montepulciano
Delight in local specialties: hearty ribollita, panzanella, fresh pastas and delicious pastries
Enjoy gracious hotels with distinct local flavor: a family villa, a former mill and a converted farmhouse
Get to know our favorite friends and colorful local characters
Undiscovered Umbria to Cortona, Land of the Tuscan Sun
No doubt you'll arrive with certain expectations. After all, artists and writers have waxed hyperbolic on the glories of Umbria and Tuscany for centuries – how can you not have preconceived notions? But somehow it's still a surprise, the sensory feast that surrounds you. You're still floored by the beauty of silvery olive groves and endless acres of vineyards. By springtime poppies. Summertime sunflowers. Harvest-ready grapes in the fall. By the symphony of flavors in even the simplest of dishes. And the sheer warmth and passione of the local people. Expectations exceeded? Just another day in the heart of Italy.
Days 1-2 Medieval flavor and ancient traditions await in charming hilltop towns  The only hill town on the valley floor, Montefalco is a great spot for soaking up views of Assisi to the north and Spoleto in the south  Coast downhill to a bountiful picnic lunch in the heart of the Sagrantino wine (Umbria's "big red") production zone Dine and wander in timeless Bevagna, perhaps pausing to browse for ceramics and silver Beauty abounds in Assisi, from the stunning Basilica of Saint Francis to the verdant valley below.
Day 3 Welcome to Tuscany!  Taste splendid wines, like Sagrantino, Montefalco Rosso and Vino Nobile di Montepulciano  Imagine you're in a postcard as you pedal along a sinuous ribbon of road flanked by bright red poppies, cypress trees and undulating hills Spin through the Orcia Valley, where fortified towns and distant Mount Amiata provide a dramatic backdrop Explore Pienza, the Renaissance utopia of Pope Pius II – and birthplace of heavenly pecorino cheese  Join our friend Vittorio in his cozy cantina for a private degustazione We're welcomed like family at La Chiusa – you'll understand why we've been coming here for years!
Days 4-6 Cruise past olive groves and sunflower fields to La Braccesca wine estate for an exclusive cooking demo and lunch  Pedal through the Chiana Valley, where white Chianina cows graze Bike to historic hilltop Cortona, surrounded by 3,000-year-old Etruscan walls, and the setting for Under the Tuscan Sun Giovanni, our longtime local guide, leads us through this celebrated town  Savor a classic Tuscan tableau during an easy ride past ancient farmhouses, vast wheat fields and cypress-lined roads.
LESS

The Route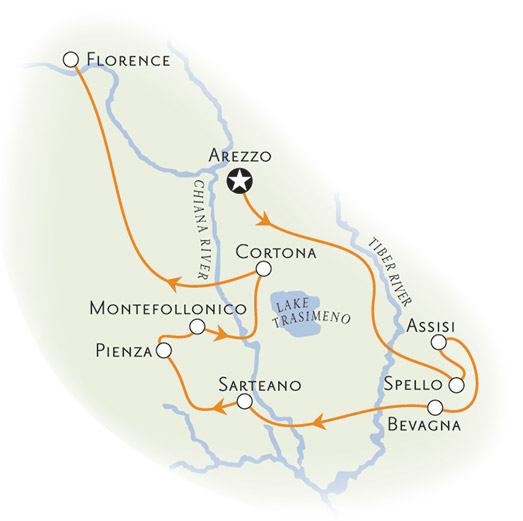 Start with our
vacation planner
so we can match you with our most suitable travel advisor. We do it all for you, air, car, accommodations, tours, you name, it in a seamless luxury vacation experience you will treasure for a lifetime.