The Experience
Walk through vineyards, woodland and Renaissance hill towns, getting to know our local amici along the way Prepare local farm-to-table recipes passed through countless generations Follow the strade bianche (white roads) of southern Tuscany's Val d'Orcia Savor Chianti Classico and other superb Tuscan wines Relish handmade cuisine, from your first plate of pici all'aglione to your final bowl-scraping spoonful of tiramisu A Culinary Adventure in Bella Toscana Tuscan cuisine appeals to the soul. It's a celebration of fresh ingredients prepared with minimal manipulation – rustic ribollita soup, melt-in-your mouth bruschetta, pecorino toscano drizzled with honey and peperoncino, a glass of Chianti Classico…it's habit-forming! Discover the joys of the Tuscan table as you learn the secrets of Italian cooking from our charming local friends. Slow down and let food be the focal point of the day. And savor this journey that nurtures both body and spirit.
Day 1 Meander through vineyards, woodland and Renaissance hill towns, welcomed by our local amici along the way Get a taste of the region's undulating terrain as you stroll from Castellina to Vescine Homer once called olive oil "liquid gold" – you'll call it delicious during our exclusive degustazione (tasting) Sip Chianti and prepare a homestyle Italian meal alongside locals in the cucina of their cooking school. Days 2-3 Journey into the heart of Chianti and back in time to historic Volpaia  Talk Tuscan meats and spices with Panzano's famed  butcher – and entertainer – Dario Cecchini   Sample honey, courtesy of the monks – and bees – of Badia a Coltibuono, or "Abbey of the Good Harvest"  Amble from one unbelievable vista to the next, stopping for lunch alfresco among the grapevines  Tonight's culinary theme: pizza! Join Backroads' friends Ciro and Umberto to learn how to let the dough fly  High ridges and peaceful forests lead the way to our lunch spot in a quaint hamlet   Enjoy a private wine talk and pour with our friend Fabrizio before dinner. Days 4-6 Follow the strade bianche (white roads) of southern Tuscany's Val d'Orcia  Wander in Renaissance-style Pienza, Pope Pius II's utopian village, and discover a hidden gem of a restaurant for dinner  Vibrant green in springtime, rich gold in autumn, the surrounding hills are a joy to explore in any season  Lunch takes place at an agriturismo and dinner is a hands-on affair as we prepare piatti tipici Toscani, typical Tuscan dishes, for our farewell feast  Our final walk brings us to a working cheese farm that produces premier pecorino – we've been coming here for nearly a decade!
LESS

The Route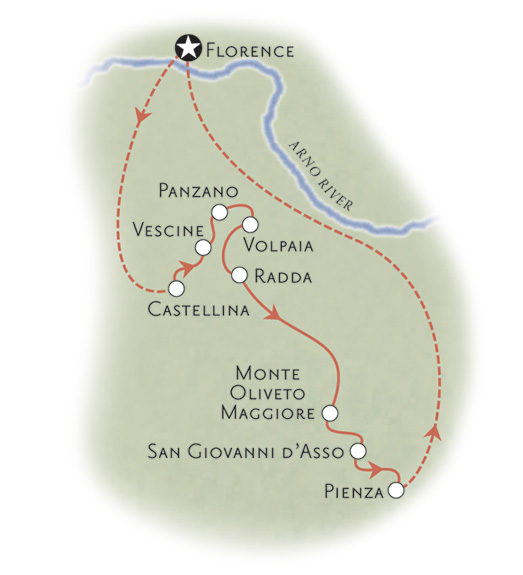 Start with our
vacation planner
so we can match you with our most suitable travel advisor. We do it all for you, air, car, accommodations, tours, you name, it in a seamless luxury vacation experience you will treasure for a lifetime.