The Experience
National Parks & Epicurean Delights in Patagonia
Everyone who comes here feels like they're the first. It's an incredible feeling, as if you're on an expedition of one. Arrive on the shores of the Quetrihué Peninsula and stand among arrayán trees over 300 years old. Embark on a journey through the Seven Lakes region, and be blown away by the endless beauty of three Argentine national parks. You'll find yourself describing every incredible view to the person next to you because they couldn't have seen what you did. No one could have. Patagonia is your discovery.
Pedal amid emerald lakes and jagged snow-covered Andes peaks
Discover tucked-away Mapuche lands just northwest of the lush Lake District
Tango lessons and yerba mate tasting
The world-famous Llao Llao resort, an Argentine national treasure
An epic mountain biking journey through three national parks
DAYS 1-2 The world-famous Llao Llao resort, a national treasure where we sip yerba mate like the gauchos and savor gourmet cuisine Soak up mountain vistas as you pedal along scenic roads with remarkable views of shimmering Lake Nahuel Huapi, the jagged spires of Cerro Catedral and the glaciers of Cerro Tronador Your feet may take you to Lake Perito Moreno – or to the spa!
DAYS 3-4 At a private home, feast on authentic Argentine asado and handmade empanadas Ready for an exciting ride? A technical double-track trail on the Quetrihué Peninsula leads past cinnamon-colored arrayán trees and tiny pudu deer in Los Arrayanes National Park Bike, kayak, shop or just relax at our elegant lodge Taste acclaimed local wines and move to the rhythm as you learn the tango and regional folkloric dances.
DAY 5 Emerald lakes, snow-covered Andes peaks and the spellbinding Seven Lakes region Two-wheel it on a mostly paved, undulating route through some of Argentina's most spectacular scenery Enjoy the scenic spots en route to San Martín de los Andes – with so many lakes, rivers and streams along the way, there are countless photo ops!
DAYS 6-7 Bike through territory belonging to the indigenous Mapuche people Scope out an artisans' market in San Martín de los Andes for wood handicrafts, sauco jam and other delightful treasures Visit the gallery of a world-renowned artist Explore pristine Lanín National Park.
LESS

The Route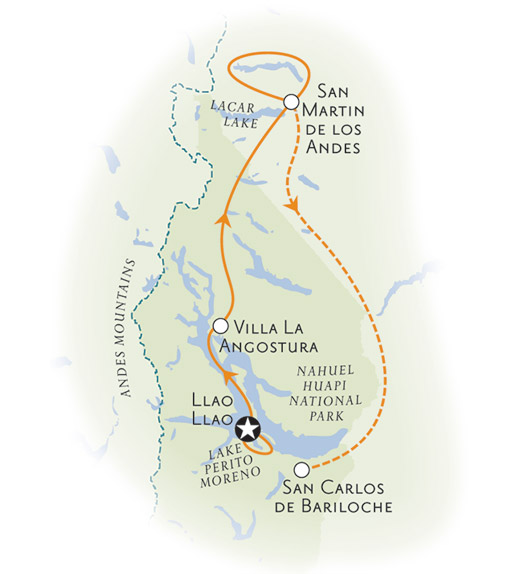 Start with our
vacation planner
so we can match you with our most suitable travel advisor. We do it all for you, air, car, accommodations, tours, you name, it in a seamless luxury vacation experience you will treasure for a lifetime.