The Experience
Just sky, water, rock and wheels. It seems too simple to be this incredible. Glaciated Rockies soaring thousands of feet above the trees. Air that feels like the purest you've ever breathed. A mountain-lined parkway you'll ride the entire day. Lake Louise, jewel-blue and simply stunning. Bighorn sheep staring as you pass as if they've never seen the likes of you before. The Post Hotel & Spa offering you flawless luxury in such a rugged land. Your ride is simplicity, rawness and beauty in its truest form.
Spectacular Lake Louise
Ride the Icefields Parkway, a journey through the heart of the Canadian Rockies
Incredibly crisp clean mountain air
The Post Hotel, blending old-world charm with modern sophistication
DAY 1 A vast wilderness of magnificent peaks, massive ice fields, pristine mountain lakes and broad valleys In Banff National Park, pedal from the picturesque resort town of Banff to Lake Minnewanka and picnic amid snowcapped spires.
DAY 2 The elegant Post Hotel, where old-world charm meets modern sophistication Bike Bow Valley's rolling hills alongside blooming meadows, towering summits and a striking blue-green river Water pounds and spray flies at the dramatic Johnston Canyon waterfall If your legs are up for a longer ride, climb to Moraine Lake and take in the superb view of ten towering peaks reflected in its brilliant turquoise water.
DAY 3 Ride the Icefields Parkway, a journey through the heart of the Canadian Rockies along the Continental Divide – it's been called one of the world's most beautiful roads! Watch for black bears, elk, mountain goats and bighorn sheep Tumbling glaciers flank the gradual ascent to unbelievably blue Bow Lake.
DAYS 4-6 Gloriously crisp clean mountain air Crest Sunwapta Pass en route to Athabasca Glacier At the Columbia Icefield Centre, get the lowdown on the enormous frozen expanse, one of North America's primary fresh water sources Explore Sunwapta Valley's riverside byways Bike to remarkable Maligne Canyon and come face-to-face with the sculpting power of water, or opt for a river float trip.
LESS

The Route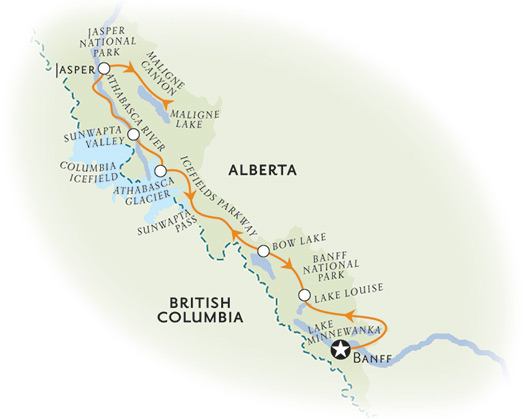 Start with our
vacation planner
so we can match you with our most suitable travel advisor. We do it all for you, air, car, accommodations, tours, you name, it in a seamless luxury vacation experience you will treasure for a lifetime.