The Experience
You'll return to the enormity of the Canadian Rockies for the rest of your life. In the stories you'll tell friends. In the spare minutes when you think back to the staggering sight of Plain of Six Glaciers. And the thundering cascades of Takakkaw Falls. You'll think of conquering the mountain pass to secluded Emerald Lake Lodge. Meadows alive with a kaleidoscope of wildflowers. The impossible blues of Moraine Lake. And in those brief seconds before you go back to real life, you'll realize your Canadian Rockies hiking adventure never really ended.
Day 1 World-class hiking in three phenomenal Canadian national parks In Kootenay, cross a vast wildfire burn area, discovering new-growth forest with pink fireweed juxtaposed against yellow columbine Venture into a hanging valley for a view of Stanley Glacier. Day 2 A forest trail carpeted with buttercups and bunchberry takes you to milky blue Sherbrooke Lake, the largest backcountry glacial lake in Yoho National Park Climb to Paget Lookout for staggering views of pristine glaciers, soaring peaks and emerald lakes Enjoy downtime on the patio of your log cabin at Cathedral Mountain Lodge. Day 3 Walk through evergreen forests and blooming meadows to behold the sensational Wapta Icefield and Yoho Glacier Standing in awe before Canada's second-highest waterfall, it all makes sense: Takakkaw is Cree for "it is magnificent" Walk along the shore of Emerald Lake, right to the door of your room at beautiful Emerald Lake Lodge. Day 4 The elegant Post Hotel, blending old-world charm with modern sophistication Climb to one of Banff National Park's most stunning alpine pastures, alive with wildflowers and whistles of wildlife Hunting great photo ops? Take aim at Crowfoot Glacier and Helen Lake. Days 5-6 The jewel-like colors of Lake Louise and Moraine Lake Switchbacks lead to breathtaking Larch Valley and marvelous views of the ten Wenkchemna Peaks Savor the Post Hotel's exquisite cuisine – and perhaps some pampering at the spa! Commune with mountain goats, pikas and hoary marmots Hike the classic route from world-renowned Lake Louise to the historic Plain of Six Glaciers Teahouse.
LESS

The Route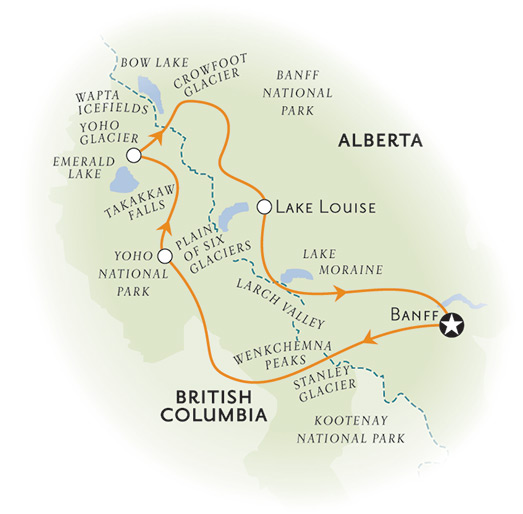 Start with our
vacation planner
so we can match you with our most suitable travel advisor. We do it all for you, air, car, accommodations, tours, you name, it in a seamless luxury vacation experience you will treasure for a lifetime.