The Experience
Walking through Delhi's markets, you realize that India's like nothing you've ever experienced—its kaleidoscope of culture and colour has burnt itself into your memory. And it's not just the magnificent forts or treasures like the Taj Mahal that impress—it's the country's spirit. Visit the birthplace of Buddhism and Hinduism to gain greater insight into this ancient and complex land. Explore the hidden side of Delhi guided by a former streetkid taking part in the Planeterra-supported New Delhi Streetkids Project. With this new perspective, our expert guides will bring you deep into one of the world's most culturally and spiritually fascinating places.
What's Included
Arrival transfer. Walking tour with a youth guide in Delhi. Rickshaw tour of Old Delhi with visit to Jama Masjid, Chandni Chowk and Gurudwara. Orientation walk of Varanasi. Excursion to Sarnath. Sunset and sunrise boat trip on the Ganges River. Breakfast at Open Hand, a vocational training cafe. Tour of the Khajuraho Temples. Yoga class (Khajuraho). Kandariya Dance Show. Guided tour of the Taj Majal and visit the Red Fort. Two safari drives with wildlife viewing and visit to Ranthambore Fort and the Ganesh temple. Tour Jaipur including the City Palace, Palace of the Winds and Amber Fort. Village stay at Rawla Jojawar in a historic heritage hotel. Explore Udaipur including Jag Mandir, City Palace, and Jagdish Temple.
14 breakfasts, 3 dinners. (Allow USD500-600 for meals not included.)
Comfort hotels (14 nts).
Minibus, train, auto-rickshaws, cycle-rickshaws, small riverboat, plane, walking.
Chief Experience Officer (CEO) throughout, local guides.
Small group experience; Max 16, Avg 12.
The Route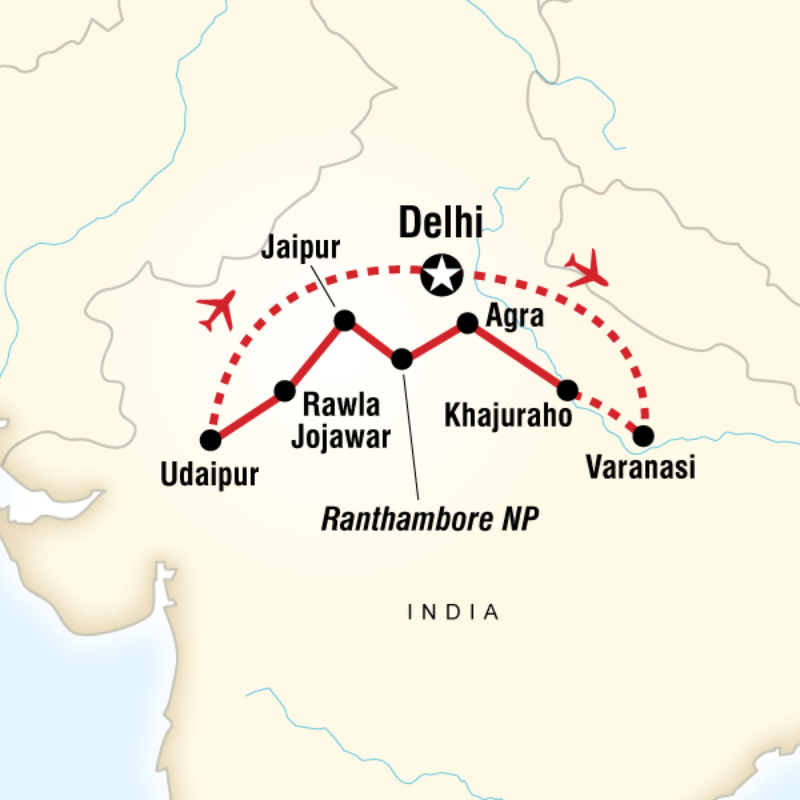 Start with our
vacation planner
so we can match you with our most suitable travel advisor. We do it all for you, air, car, accommodations, tours, you name, it in a seamless luxury vacation experience you will treasure for a lifetime.