The Experience
Discover the heart and soul of Indochina on this tour of four very diverse countries. Encounter history, both ancient and modern, and witness the unbelievable splendour of Angkor Wat. Our CEOs will ensure your accommodation and transportation are covered, so you can choose the activities that interest you. Experience Halong Bay by boat and cycle around Vang Vieng. Push through hectic city lanes and tap into the pulsing nightlife. And with other travelers your own age, you can be sure to get down with adventurers that'll keep up.
What's Included
Guided tour of Angkor Wat temple complex.
Local Khmer meal at Planeterra-supported project
New Hope (Siem Reap).
Orientation walks in Phnom Penh and Hanoi.
Halong Bay boat cruise with lunch and guide.
Flight between Hanoi to Vientiane.
Witnessing the giving of alms in Laos.
Slow boat up the Mekong.
Street food crawls in several cities.
20 breakfasts, 2 lunches, 3 dinners. (Allow USD620-800 for meals not included.)
Simple hotels (23 nts), sleeper trains (4 nts), homestays (2 nts)
Local bus, air-con bus, train, walking, tuk tuk, local boat, junk boat, plane.
Chief Experience Officer (CEO) throughout, local guides.
Small group experience; Max 16, avg 10.
The Route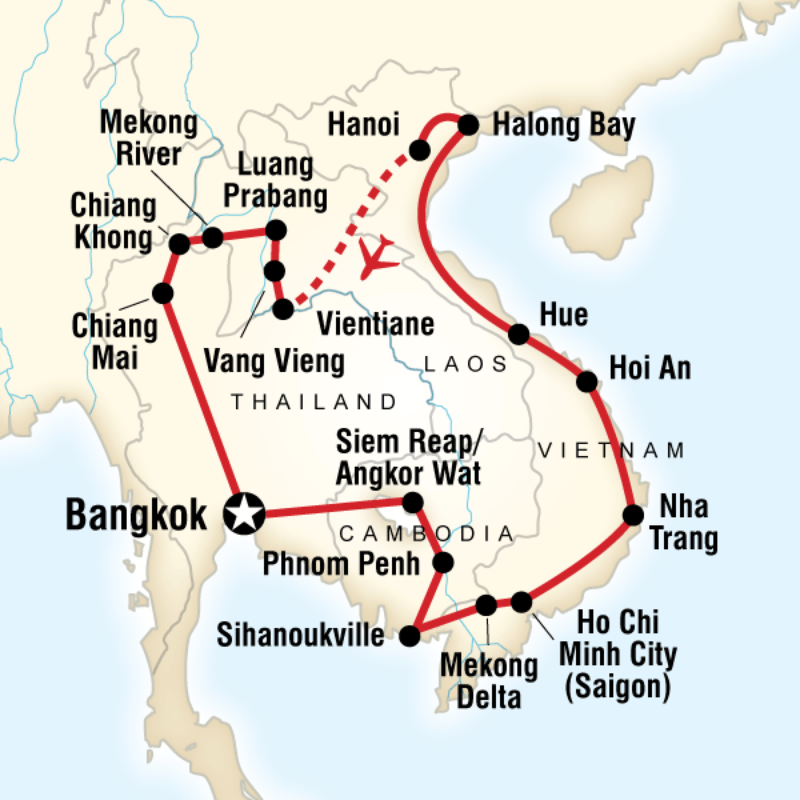 Start with our
vacation planner
so we can match you with our most suitable travel advisor. We do it all for you, air, car, accommodations, tours, you name, it in a seamless luxury vacation experience you will treasure for a lifetime.