The Experience
The Caravan Routes & Desert Palaces of Rajasthan
We bet you have a bucket list. And if biking in India isn't on it, it should be. This could be your one epic journey. The colors, sounds, smells, history, culture…the ride. A bit overwhelming? Perhaps. But who wants to cross an ocean and be underwhelmed. When you need a break from the raw energy of it all, peace can be found. In Brahmin temples. In the quiet desert. And in our luxury hotels – some of the finest in the world – where you'll dine and slumber like royalty. Come with us. It's time to check India off.
Cycle through peaceful countryside past small villages, ancient temples and stately palaces
Rush hour traffic? Depends on how keen those cows are to move off the road
Explore the Thar desert as travelers and nomads have for centuries: on camelback
Accompanied by our Indian friends, be welcomed into a vibrant and culturally rich land
Exquisite accommodations, from former Raj estates to a hotel recently named the world's best
DAYS 1-2 A journey through Rajasthani history, from the Maharaj kingdoms to British rule and India's dynamic present Tour Jodhpur's staggering 15th-century Mehrangarh Fort Sleep like kings and queens in a palace still inhabited by the Jodhpur royal family Saddle up for a culturally rich bike ride to Bisnoi, stopping to admire the region's finest pottery and dhurrie rugs A local family welcomes us into their home for a traditional Indian feast.
DAY 3 Relive a classic Indian form of travel – with a camel caravan across desert sand for a night beneath the stars in safari-style tents (with all the necessary amenities, of course) Pedal through the countryside, rolling dunes and green farmland.
DAYS 4-5 Bike rural India, past friendly villagers, colorful temples, peacocks, cows and goats Pali's three exquisite temples leave you inspired for the heart-pumping ride through the Aravalli Hills to Narlai Explore Kumbhalgarh, an imposing 15th-century citadel perched above the arid landscape.
DAYS 6-7 From Ranakpur, a breathtaking 14th-century Jain temple with 1,444 intricately carved pillars, cycle through rolling terrain to the opulent Devi Garh Palace, our home for the next two nights Venture into the countryside by foot, bike – or even camel!
DAYS 8-9 Spin past lake palaces and temples en route to the lakes of Udaipur Stroll through Udaipur's craft shops for handmade paper, silver, copper or leather goods – or relish some R&R at one of the world's most luxurious and romantic hotels.
LESS

The Route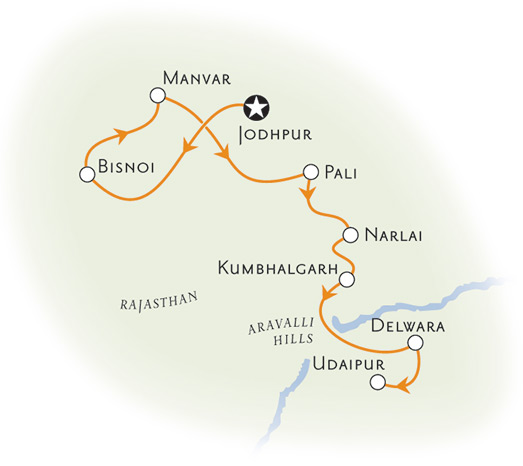 Start with our
vacation planner
so we can match you with our most suitable travel advisor. We do it all for you, air, car, accommodations, tours, you name, it in a seamless luxury vacation experience you will treasure for a lifetime.