The Experience
There's just something about Ireland. You get swept up in it. The indescribable hues of green. The lovely cadence of the language. Tiny thatch-roofed homes. City names that sing like songs – Ballylickey, Clonakilty and Glengarriff. Your stay at Park Hotel Kenmare only adds to the drama. Herds of sheep add to the comedy. Stopping in a small pub for a pint. And every person you meet strikes up a conversation. It seems like everyone has a story to tell in Ireland. And now so do you.
Spin through the classic Irish landscape: green hills, small farms, quaint cottages and woolly sheep
The hospitality of the acclaimed Park Hotel Kenmare
A private whiskey tasting
Soak up fascinating history and lively village culture
Ring of Kerry treasures, including sweeping coastal views, by land and sea
Day 1 Spin through the classic Irish landscape: green hills, small farms, quaint cottages and woolly sheep Listen to the lilt of Gaelic in Ballyvourney Arriving in Gougane Barra, a hamlet surrounded by lush forests and mountains, spot the 300-year-old church set on a tiny island Villages painted in cheery colors line our country roads to Ballylickey.
Day 2 A private whiskey tasting with expert John Moriarty Bike past streams and waterfalls in scenic Glengarriff State Forest Reserve en route to a unique sculpture garden A gradual five-mile climb leads to magnificent Caha Pass, complete with tunnels and sweeping views of Kenmare Bay.
Day 3 The hospitality of the acclaimed Park Hotel Kenmare On the sparsely populated Beara Peninsula, pedal by pristine lakes, stately cliffs and glacier-carved mountains Check out Kenmare's shops, discover an impressive prehistoric stone circle or just relax at the hotel – spa time, anyone? How's your Irish accent? Our friend and guide Mike Murphy gives pointers over a pint.
Day 4 An evening with a well-known Irish storyteller at a local pub Gorgeous cycling routes wind through Moll's Gap and wild Ballaghbeama Pass into remote Glencar Valley and around Caragh Lake Warm hospitality awaits at the Carrig Country House.
Days 5-6 Soak up fascinating history and lively village culture Peaceful country roads lead you to some of the most dazzling spots along the magnificent Ring of Kerry Take in the views from Dingle Bay during a ferry ride to windswept Valentina Island Spin through the farmlands around Killorglin in the shadow of mountain peaks.
LESS

The Route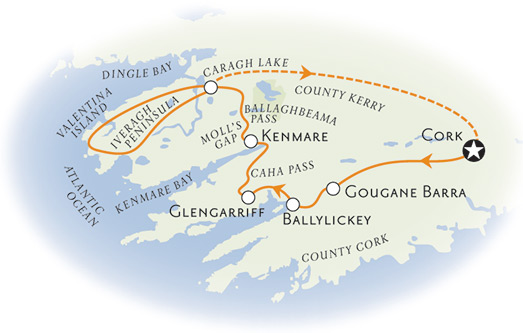 Start with our
vacation planner
so we can match you with our most suitable travel advisor. We do it all for you, air, car, accommodations, tours, you name, it in a seamless luxury vacation experience you will treasure for a lifetime.