The Experience
A dazzling fusion of past and present, Israel will captivate you at every turn. With Backroads, you'll delve deeply into this ancient and holy land – a place shaped by prophets, kings and crusaders, whose epic history is etched into the very consciousness of Western civilization. You'll discover a rich tapestry of cultures. And explore a diverse landscape, from the azure waters of the Mediterranean to the green hills of the Golan Heights, via the unique perspective that only a bicycle can offer.
Admire marvelous archaeological treasures in Beit She'an and the Judean Hills
Savor Israeli, Lebanese and Druze cuisine – as delicious as it is diverse
Taste wine in a land where grapes have been cultivated since biblical times
Get to know the old city of Jerusalem on a private walking tour
Bookend your bicycling trip with extended stays in vibrant Tel Aviv and historic Jerusalem
Days 1-2 Experience an authentic and intimate connection to this epic land and its people Visit Ein Hod, a communal artist's village overlooking the Mediterranean coast, where you'll find some of the best Israeli art in the country Pedal through kibbutz orchards and Druze Arab villages Bask by the sea or walk with our local guide through Caesarea's Roman ruins, originally built by Herod the Great Feast on healthful kosher cuisine at our tranquil forest spa retreat.
Days 3-4 An exclusive wine tasting in a land where grapes have been cultivated since biblical times Witness the fertile Kharod Valley, West Bank villages and the mountains of Jordan as you spin to historic Beit She'an Once a center of Egyptian rule, this timeless site overflows with archaeological treasures Engage in an enlightening chat with members of the Arab-Israeli community Bike past vineyards near the Lebanese border With our colorful local friend, wander the cobblestone lanes of entrancing Safed, the highest city in Israel and one of Judaism's four holy cities.
Day 5 Savor Israeli, Lebanese and Druze cuisine – as delicious as it is diverse Explore the secret passageways of medieval Nimrod Fortress, perched on the slopes of Mount Hermon Ride east with views of Syria, passing tanks and a memorial from the Yom Kippur War A unique experience at an authentic kibbutz awaits.
Days 6-8 Get to know the old city of Jerusalem on a private walking tour Enjoy a mostly downhill spin to the Sea of Galilee Arriving in Jerusalem, see the Western Wall as the sun sets, marking the beginning of Shabbat Pedal into the Judean Hills along with a multitude of local bicyclists Picturesque Ein Karem village is a delight to explore on foot
LESS

The Route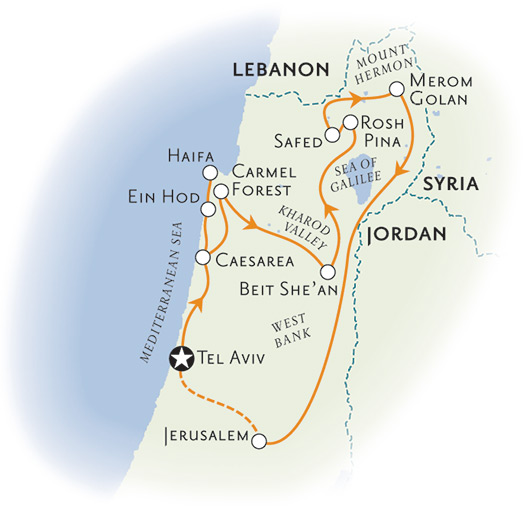 Start with our
vacation planner
so we can match you with our most suitable travel advisor. We do it all for you, air, car, accommodations, tours, you name, it in a seamless luxury vacation experience you will treasure for a lifetime.