The Experience
It'd be too easy to call this trip a religious experience. Yes, this adventure walks through classic biblical scenery. And those moments are indescribable – full of historic and contemporary cultural elements. But to stop there is not giving this land its due. The rolling hills, lush oases, and rugged canyons. The unworldly beauty of the Dead Sea and the Mediterranean views from intriguing Acre. Those are religious experiences of a different kind. No one goes to Israel to simply stroll through a forest and on to a canyon, but this experience is not just another trip to Israel. That would be too easy.
Gain perspective on Israel's rich culture through insightful interactions with our local friends
Venture into the ruggedly beautiful landscape, discovering lush desert oases, dramatically carved canyons and inspiring panoramas
Discover the diversity – and delicious flavors – of Israeli, Lebanese and Druze cuisine
Witness extraordinary World Heritage sites and other archaeological treasures alongside expert historians and local guides
Get to know the old city of Jerusalem on a private walking tour
Day 1 The World Heritage site of Acre, a mixed Arab and Jewish port town with a rich 3,000-year-old history Tour this fascinating city with a local guide, exploring its narrow alleyways, old ramparts, ancient waterfront and wealth of Ottoman and Roman sites.
Days 2-3 Authentic interactions with local people, including lunch at a private Arab home Hike into a shady canyon, passing the ruins of Monfort, a crusader castle Follow part of the Israel Trail through an oak forest and past the remains of Ottoman-period flour mills Take in views of the Golan Heights and Hula Valley to Ramot Naftali Walk through mystical Safed, Israel's highest city and one of the four holy cities of Judaism, along with Jerusalem, Hebron and Tiberias.
Day 4 Delicious kebab, fresh salads, olives and local sweets in the Druze village of Ein Qinya From lush Banias Nature Reserve, ascend to medieval Nimrod Fortress, perched on the slopes of Mount Hermon During a short walk, a resident of Kibbutz Merom Golan chats with us about local history and life on the kibbutz.
Day 5 An experience like no other – floating in the Dead Sea, the lowest point on the planet Hiking options abound in Yehudia National Park, punctuated by deep canyons, rivers and waterfalls Among towering red mountains, enjoy a scenic jaunt past natural pools, keeping an eye out for shy ibex and rock hyrax.
Day 6 Rise early for a walk to the awe-inspiring Masada fortress, a World Heritage site From the hilltop heights of this 2,000-year-old complex, soak up commanding views of the Dead Sea, Jordan and the Judean Desert, whose vibrant colors are especially impressive at sunrise Make the most of quiet Shabbat with an intimate exploration of Jerusalem's neighborhoods Walk to the Old City for a sunset view of the Western Wall.
Days 7-8 An epic hike through the Judean Desert amid spring-fed pools, monasteries and crumbling Roman aqueducts, In the deep and narrow Wadi Qelt gorge, arrive at the stunning Byzantine monastery of St. George, carved into a rugged cliff face Journey through 2,000 years of history during our guided walk to some of Jerusalem's most cherished sites, including Dome of the Rock (Temple Mount), a special opportunity that few people get to experience.
LESS

The Route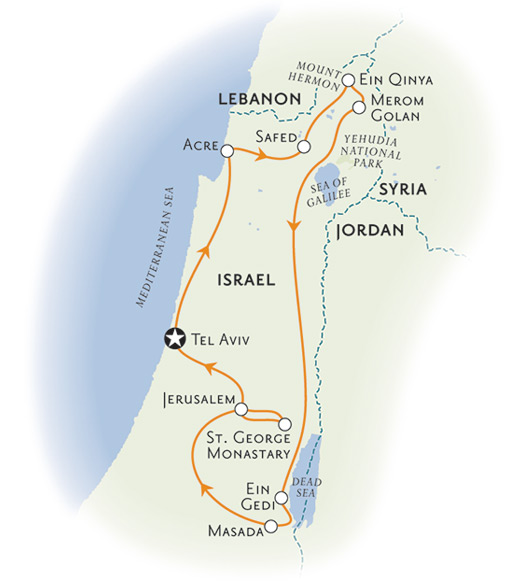 Start with our
vacation planner
so we can match you with our most suitable travel advisor. We do it all for you, air, car, accommodations, tours, you name, it in a seamless luxury vacation experience you will treasure for a lifetime.