The Experience
From the Sorrentine Peninsula to the Isle of Capri
Approaching the Amalfi Coast is a thrill. Like arriving on a movie set. Sheer cliffs plunging into azure waters. Pebbly beaches shaded by colorful umbrellas. Fragrant lemon trees, gelato stands, outdoor cafés, friendly faces. Your trip has barely begun and you already feel rewarded. This isn't just another vacation. It's six glorious days in the realm of Italy's elite. Luxuriating in decadent villas. Hiking on paths that few visitors find. Sharing the friendships forged by your Trip Leaders. All that's left is to wonder: when can you return to the good life on the Amalfi Coast?
By foot and boat, explore gorgeous coastline and island treasures
Stroll timeless trails through lemon orchards and terraced gardens high above the water
Fresh seafood and unmatched views of Capri
Discover Amalfi's grand cathedral and atmospheric Arab quarter with a local guide
The coastal village of Positano, where pastel-colored villas cling to steep cliffs
Day 1 Stroll timeless trails through citrus orchards and terraced gardens high above the water It's a wonderful introduction to the cobblestone paths and rugged steps that make this area so delightful to hike Stunning views of the Bay of Naples escort you to the bustling port town of Sorrento.
Day 2 By foot and boat, explore gorgeous coastline and island treasures Capri's limestone peaks, flower-lined lanes and postcard-perfect panoramas have charmed visitors for centuries Ascend to the isle's highest point atop Monte Solaro and savor a superb vista of the iconic Faraglioni sea stacks.
Day 3 From our hotel 1,000 feet above the sea, sip a limoncello and drink in views of Capri Amble through Villa San Michele and its gardens, called "the most fantastic beauty" by writer Henry James Looking for a keepsake? How about lemon-infused perfume or soap?
Day 4 The coastal village of Positano, where pastel-colored villas cling to steep cliffs Boat along the magical Costiera Amalfitana, a World Heritage site Wander through Ravello, known as the "aristocrat of the Amalfi Coast."
Days 5-6 Discover Amalfi's ancient archways, grand cathedral and atmospheric Arab quarter with a local guide Hike past gurgling streams through groves of chestnut, pine and olive trees Centuries-old paper mills set amid ferns and wildflowers dot the route to Amalfi The view of the Amalfi Coast from Villa Cimbrone's Terrace of Infinity caps off an incredible week.
LESS

The Route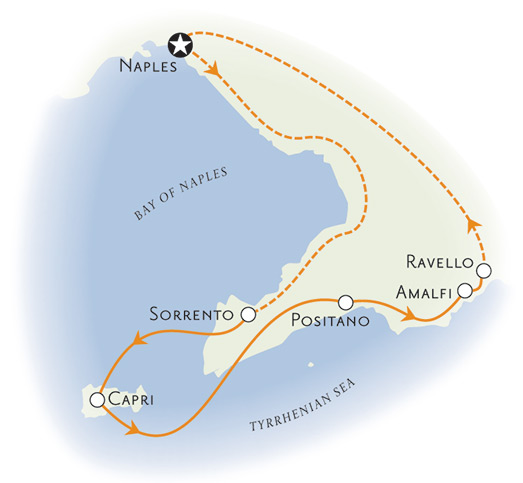 Start with our
vacation planner
so we can match you with our most suitable travel advisor. We do it all for you, air, car, accommodations, tours, you name, it in a seamless luxury vacation experience you will treasure for a lifetime.