The Experience
A Peak Experience in Italy & Austria
Uncover the colorful history and culture of Italy's & Austria's best kept alpine secret
Easy biking amid valleys and storybook villages framed by magnificent limestone peaks
Pedal on bike paths past meadows strewn with wildflowers and filled with locals tending the rich soil
Wonderful regional wines, including vernatsch, lagrein and gewürztraminer
Enjoy a warm welcome at luxurious family-run hotels and the region's top restaurants
Here atop Italy's rugged rooftop, a surprise awaits: a network of cycling routes and bike paths that keep us from traffic and allow us to ride with locals and tourists of all ages. From Italy to Austria, two-wheel it amid electric-green meadows, charming old-world villages and spellbinding limestone massifs. Discover valleys steeped in history and shaped by the heritage of the Ladin people, whose unique cuisine, language and traditions will flavor your journey. And savor exquisite alpine meals, fine Italian wines and cozy inns where you're welcomed like family.
Days 1-2 Welcome to Tyrolia, home to a captivating mix of Italian, Austrian and Ladin cultures Ready to dive into the spectacular Dolomites World Heritage site? Embark on a pleasant riverside ride past orchards, vineyards and castles Piste ciclabili in Italy, Radweg in Austria – whatever you'd like to call it, this bike path is idyllic! Descend through the Venosta Valley, flanked by the jagged peaks of the Ortles and Ötztal mountains.
Day 3 Delectable mountain cuisine – polenta, funghi, local cheese, canederli and apple strudel Meadows, woodland and quiet hamlets set the stage for today's ride along the Rienza River Sprechen Sie Deutsch? In the medieval town of Brunico, most residents speak German A haven of tranquility, the Aurina Valley greets you with a few short hills and delights with majestic vistas of the snow-covered peaks of the Zillertal range Soak up the scene of fairy-tale forests, barns and locals hand-cutting their lawns with traditional wooden scythes.
Day 4 Hidden valleys and storybook villages framed by magnificent limestone peaks Following peaceful cycling routes, make your way through the countryside to Lienz, Austria, a charming cobbled town ringed by jagged spires.
Days 5-6 Wonderful regional wines, including vernatsch, lagrein and gewürztraminer Spin along a picture-perfect route through a forested valley nestled among the Alps Savor the bounty of an alpine picnic in cozy Matrei Back in Lienz, celebrate an unforgettable week of biking over a festive farewell dinner Pedal into the Drava River valley before saying auf wiedersehen to Tyrolia.
LESS

The Route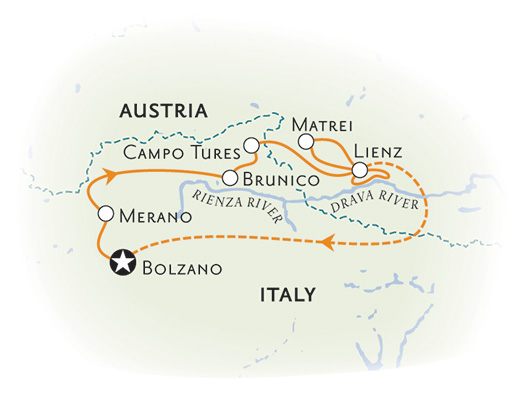 Start with our
vacation planner
so we can match you with our most suitable travel advisor. We do it all for you, air, car, accommodations, tours, you name, it in a seamless luxury vacation experience you will treasure for a lifetime.