The Experience
Italy's Sun-Drenched Adriatic Coast
Puglia is genuine. Untouched. Exceptional. The southeastern tip of the Italian peninsula. The heel of the boot. A sunny paradise between the deep blue waters of the Adriatic and the flawless green of Basilicata. And there's no better way to experience it than on two wheels. Pedal past forests of hundred-year-old olive trees and through white-washed seaside towns. Climb to historic villages dotted with distinctive stone trulli. Share a table with the kindest people in all of Italy, who welcome you with rustic, fresh and thoroughly local Pugliese meals. Every turn on your adventure will reveal more and more of Italy's roads less traveled. Welcome to Puglia.
Unbeatable views of ancient olive groves, whitewashed villages and age-old farmhouses
Ride on quiet one-lane orchard roads, cooled by sea breezes, under big blue skies
A sommelier-led tasting of full-bodied primitivo and other notable Pugliese vini
The World Heritage sites of Alberobello with 1,500 trulli and Matera with a maze of prehistoric caves
Dine on organic homemade Pugliese dishes with a wine pairing at each course
Days 1-2 Be charmed by the unique identity and spirit of the Pugliese people Bike past fields of fennel and a sea of shimmery olive trees The sun-bleached fishing town of Polignano a Mare, with winding streets and limestone cliffs, is yours to explore Discover charming Monopoli, a labyrinth of narrow lanes and a magnificent cathedral Partake in a sommelier-led tasting of full-bodied primitivo and other notable vini Pugliesi.
Day 3 Alberobello: a World Heritage site with 1,500 cone-roofed trulli Embark on a walking tour with a local guide to learn about these unique stone buildings, constructed without mortar Pedal rolling country roads through the fertile Val d'Itria Get cooking with local Pugliese chefs during an unforgettable culinary lesson Ever wondered how mozzarella is made? Learn how it's done at an agriturismo with a mozzarella master.
Day 4 Ride on quiet one-lane roads, cooled by sea breezes under big blue skies A peaceful route leads to Ostuni, la città bianca (the white city), which spans three hilltops and is crowned by a Gothic cathedral Spin to Egnazia, the ruins of a 5th-century BC Roman port city.
Days 5-6 Journey inland to the World Heritage site of Matera, one of Italy's most fascinating towns Some 9,000 years ago, humans inhabited the canyon's natural caves, creating what UNESCO calls "the most outstanding example of a troglodyte settlement in the Mediterranean" Soak up the authentic feel of this ancient town, with its intriguing history and sublime views Cap off your trip with an optional ride or a walk through Matera with a local expe
LESS

The Route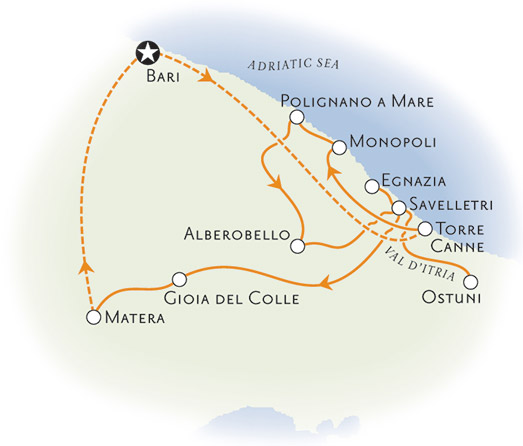 Start with our
vacation planner
so we can match you with our most suitable travel advisor. We do it all for you, air, car, accommodations, tours, you name, it in a seamless luxury vacation experience you will treasure for a lifetime.