The Experience
Superb travel Italy style! From Michelangelo's statue of David to the echoes of gladiators at Rome's Colosseum, the art and drama of the ages inspire this journey. Pre-arranged reservations mean you see the Colosseum in Rome ," without long lines. View the inspiring treasures of the Vatican Museums and the Sistine Chapel during a special after-hours guided visit! Confirmed reservations provide an opportunity to view the original works of the masters at the Uffizi Gallery and Galleria dell'Accademia in Florence. Enjoy confirmed reservations at the Doge's Palace in Venice, see St. Mark's Square, and take a gondola ride on the canals complete with a serenade. Visit the medieval town of Siena in the Tuscan countryside. Take a high-speed train ride to Florence. And of course, you'll also have ample time to pursue what interests you most in Venice, Florence, and Rome when you travel Italy.
Day1 Tour begins 6:00 PM, Grand Hotel Villa Serbelloni. A transfer is included from Milan's Malpensa Airport to Grand Hotel Villa Serbelloni in Bellagio. As you travel Italy , you'll see the best of this ancient country, from great cities to countryside villages and towns that are off-the-beaten track! Begin by heading through the beautiful northern Italian countryside from Milan to your historic 19th-century grand hotel in beautiful Bellagio on the shores of bejeweled Lake Como. Meet your fellow traveling companions at a welcome cocktail reception and dinner at your hotel. Lodging Grand Hotel Villa Serbelloni Day 2 Your travels take you by private boat from Bellagio to visit Villa Del Balbianello; set on a wooded peninsula that juts into the lake, it was built in the late 18th century on the site of a Franciscan monastery. Noted for its exquisite landscaping and sculpture, the villa features spectacular terraced gardens ablaze with magnolias, cypresses, azaleas and more against dramatic views of the distant Alps and the famous shore of Lake Como, and appeared as a location in the James Bond film Casino Royale and in Star Wars II: Attack of the Clones. After lunch on Isola Comacina, return to Bellagio and enjoy the afternoon and evening to explore as you wish; enjoy dinner on your own tonight. Lodging Grand Hotel Villa Serbelloni Day3 Journey across northern Italy from the lakes to Venice, among the world's best-loved cities, designed along an intricate system of canals within a lagoon. After lunch, head to St. Mark's Square, the heart of Venice, with a local guide. Visit Piazza San Marco (St. Mark's Square) and St. Mark's Basilica, one of the greatest buildings in Europe with its exquisite mosaics and detailed carving, and the Doge's Palace, a pink marble Gothic masterpiece containing a precious art collection. A serenade aboard a gondola cruise through the canals, and dinner at a popular Venetian restaurant, are the perfect endings to a perfect day. Lodging Hotel Danieli Day 4 Spend the whole day exploring the museums and sites that interest you most in remarkable Venice, a highlight as you travel Italy with Tauck. Perhaps tour the Galleria dell'Accademia or the Peggy Guggenheim Collection – which featuring an amazing collection of modern art housed in Guggenheim's former home on the Grand Canal, the 18th-century Palazzo Venier dei Leoni – or take a boat ride to some of the many islands in the Venetian Lagoon. Lodging Hotel Danieli Day 5 Travel Italy by high-speed rail today from Venice to Florence, the birthplace of the Renaissance. Get an introduction to the city's architectural landmarks and great artists from a local art historian; view Lorenzo Ghiberti's bronze doors with detailed panels at the Baptistry, part of the Duomo of Santa Maria del Fiori complex. Your art lecture is a fitting prelude to today's visit to Galleria dell'Accademia, Europe's oldest art school and home to many of the world's most beloved paintings and sculpture, including Michelangelo's famed statue of David. Later, a walking tour explores the historical center of Florence, a UNESCO World Heritage Site. Have dinner à la carte at your leisure this evening at your hotel in the heart of the city . Lodging The St. Regis Florence Day 6 We've made reservations for you today at Florence's extraordinary Uffizi Gallery, Italy's largest art museum and one of the first art galleries in the world, where you'll gaze at some of the world's greatest art masterpieces on a guided tour with a local expert. Admire works by Leonardo da Vinci, Raphael, Michelangelo, Sandro Botticelli, and more; following your tour, you can spend as much time as you like looking at the art.  The rest of the day is free to explore more of Florence as you please; perhaps you may want to visit the Pitti Palace, the Medici Chapels or stroll across the Ponte Vecchio to the lovely Boboli Gardens; enjoy lunch and dinner on your own today. Lodging The St. Regis Florence Day 7 Travel Italy through lush Tuscan landscapes this morning, featuring olive groves, cypress trees, and vineyards, including the region that produces Chianti wine. Stop in the medieval hill town of Siena, and wander through its narrow centuries-old streets. See the Piazza del Campo where the Palio bareback horse race is held, and visit the Duomo, one of Italy's great cathedrals, with scenes inlaid in the marble floors and sculpture by Michelangelo. Continue through scenic Umbria and Lazio to your final destination – Rome, the Eternal City that was the center of the once-powerful Roman Empire, and is today the capital of modern Italy – for a three-night stay at one of Europe's finest hotels. Indulge this evening in an à la carte dinner at a Roman neighborhood restaurant known for its regional cuisine. Lodging The St. Regis Rome Day 8 Your first full day in Rome begins with a visit to one of the world's most famous houses of worship, immense St. Peter's Basilica, and St. Peter's Square. The remainder of the day is free to explore Rome as you please before this evening's Tauck Exclusive! An after-hours guided visit to the Vatican Museums and the Sistine Chapel (subject to availability; day of the visit may vary) gives you privileged access to the treasures of the Vatican, without the day's crowds. See the Candelabra Gallery, Map Gallery and the Tapestries; it's a once-in-a-lifetime opportunity to see some of the world's great masterpieces, including Michelangelo's famous Sistine Chapel ceiling frescoes, without the usual crowds. Up close and unhurried, you'll have a chance to see firsthand why the chapel's floor is as famous as its celebrated ceiling! Lodging The St. Regis Rome Day 9 Get an insider's view of Rome from a local guide on a city sightseeing tour – view such can't-miss sights as the Roman Forum, Piazza Venezia, and the Circus Maximus – and you'll avoid long lines with pre-arranged reservations for a visit inside the Colosseum. Opened in AD 80, the Colosseum once reigned supreme as an entertainment venue used by Roman emperors to maximize their popularity with the general public. Spend some more free time in Rome this afternoon prior to this evening's farewell cocktail party and dinner – a special finale to your extraordinary Italy travel days from the Italian Lakes to Rome. Lodging The St. Regis Rome Day 10 Your trip ends in Rome. Fly home anytime. A transfer is included from The St. Regis Rome to Leonardo da Vinci Airport in Fiumicino; allow 3 hours for check-in.
LESS

The Route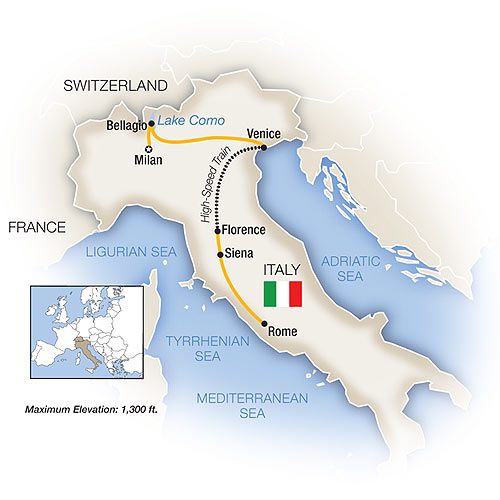 Start with our
vacation planner
so we can match you with our most suitable travel advisor. We do it all for you, air, car, accommodations, tours, you name, it in a seamless luxury vacation experience you will treasure for a lifetime.