The Experience
From the Dutch Countryside to Beautiful Bruges
"A Dutchman without a bike is like a fish without water" so the saying goes. In Holland, with nearly one bicycle for every person, everyone rides – even the king and queen. And in bike-crazy Belgium, home of cycling great Eddie Merckx, passion for le vélo is legendary. You'll find it in the pastoral flat-as-a-pannekoek landscape, amid the flower fields and silent canals. And in the bustling cities and storybook villages. You'll even find it post-ride – whether in the form of a fine Belgian Lambic or a pot of steamed mussels. Come bike with us in Holland and Belgium. And feel the love
Uncover the captivating history and culture of two countries in a single trip
Windmills, canals, pitch-roofed farmhouses and vast skies – scenery straight out of a Dutch masterpiece
A welcoming bike culture of epic proportions
Luxuriate in hotels reminiscent of the 17th-century Golden Age
"Beauty lies in the hands of the beer holder" – sample Belgium's national treasure
Days 1-2 Timeless scenery straight out of a Dutch masterpiece Begin with a leisurely ride from Alkmaar to Santpoort, located on the edge of a scenic coastal forest Savor traditional pannenkoeken (pancakes) by day and Michelin-starred cuisine by night In the spring, admire the vibrant floral designs at Keukenhof, the world's largest flower garden Pedal past forests and windmills on your way to Holland's charming coast Emerald-green fields and horse farms lead the way to The Hague, our home for the next two nights.
Day 3 Bike through hamlets and countryside to Gouda, where the beloved cheese originates Delight in a visit to the World Heritage site of Kinderdijk, known for its 19 windmills once used to drain the surrounding floodplain Taste a wedge of distinctive Gouda – or perhaps a slice of appeltaart? Biking is a way of life in the Netherlands, and it's a pleasure to join the locals as you cruise through the region, passing dikes and quaint villages.
Days 4-6 Uncover the captivating history and culture of two countries in a single trip Bike over the border – welcome to Belgium! It's a scenic spin to romantic Bruges – nearly car-free and ideal for exploring on foot Discover the nooks and crannies of this stunningly preserved medieval city of narrow cobblestone streets, steep-gabled brick houses, lofty spires and meandering canals If you're overwhelmed by the bier choices in Belgium, try Zot, which has the distinction of being the only beer brewed in Bruges – it's also regarded as one of Belgium's finest – Prost! Pedal to the Flemish village of Diksmuide, once the heart of Belgian resistance in World War I Enjoy a final spin through charming Oostkerke, considered one of the most beautiful villages in Flanders.
LESS

The Route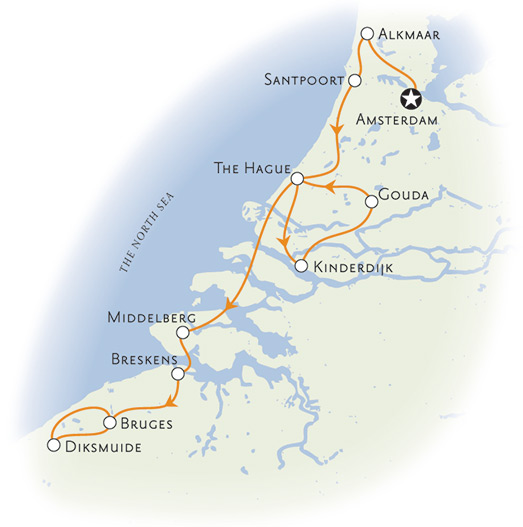 Start with our
vacation planner
so we can match you with our most suitable travel advisor. We do it all for you, air, car, accommodations, tours, you name, it in a seamless luxury vacation experience you will treasure for a lifetime.