The Experience
The Sensational South Island from Christchurch to Queenstown
Biking doesn't get any more epic than New Zealand. Or more beautiful. The greens of Ireland. The skyscapes of Switzerland. The friendly feel of, well, New Zealand. It's where glaciers get cozy with rain forests. Where the Tasman Sea surf pounds an Oregon-rugged coastline. On a bike, you're in the middle of it all. Ocean mist in your face. Ever-changing natural beauty through your sunglasses. Island-fresh air in your lungs to complement that bit of sweat on your brow. Here the sheep have it made. This week, they aren't the only ones.
Epic biking at its best in one of the world's greatest outdoor playgrounds
Glaciers meet rain forest meets crashing ocean coastline
Travel by train across the South Island
Dramatic varied scenery, finishing in a pinot-growing wine region
Queenstown, the adventure capital of New Zealand
DAY 1 Awe-inspiring routes in one of the world's greatest outdoor playgrounds Take the TranzAlpine train over Arthur's Pass, spotting the Canterbury Plains and the Waimakariri River Gorge Pedal to the pancake rocks at Punakaiki, known for its impressive ocean "geysers."
DAYS 2-4 Glaciers meet rain forest meets the dramatic Tasman Sea Explore the coastal town of Hokitika, famous for pounamu (New Zealand jade) Pedal through old-growth forests and over Mount Hercules to Westland National Park Hike to the face of the Franz Josef Glacier, one of New Zealand's natural wonders If you're up for more riding, tackle the challenging route to Fox Glacier.
DAYS 5-8 Cross the "main divide" of the Southern Alps, with the bright teal-colored water of Lake Wanaka as your reward Ride to South Westland National Park along a rolling route Discover the waterfall-laced Haast World Heritage area, with fantastic vistas of the Tasman Sea Kick back at Munro Beach, go for a stroll or a canoe ride Opt for an excursion to Milford Sound, one of New Zealand's most scenic national treasures.
DAYS 9-10 Spectacular varied scenery, finishing in pinot noir country Follow the Clutha and Kawarau Rivers past vineyards in a burgeoning wine region Check out Queenstown, New Zealand's adventure capital.
LESS

The Route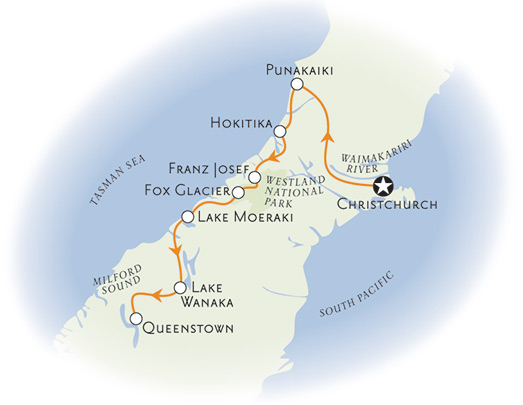 Start with our
vacation planner
so we can match you with our most suitable travel advisor. We do it all for you, air, car, accommodations, tours, you name, it in a seamless luxury vacation experience you will treasure for a lifetime.