The Experience
After New Zealand, the bar will be forever raised. Other coastlines will seem less striking. Even mountains will pale in comparison. Glaciers…who sees glaciers at home? Start at the South Pacific, journey up to the Southern Alps, down to the Tasman Sea, then back up again. It's impossible to choose the most spectacular view. The most incredible moment. The limestone monoliths at Kura Tawhiti? Franz Josef Glacier, surrounded by rain forest? The view from the top of Rocky Mountain? Your nine days in New Zealand will be the benchmark. And your next vacation will have big shoes to fill.
Tramp through the unmatchable South Island – it's a Kiwi tradition!
Alpine tundra in the a.m. and oceanside trails in the p.m.
Visit a working Merino sheep station
Explore two glaciers, Franz Josef and Fox
Opt to discover dramatic Milford Sound by scenic flight or cruise
DAYS 1-2 Tramp through the spectacularly beautiful South Island – it's a Kiwi tradition! Hike to a Maori sacred site, Kura Tawhiti – a gorgeous set of limestone outcroppings once used by Maoris to navigate across the island Behold beech forests and alpine lakes as you ascend to a sheep station hut where shepherds stayed during the days of high-country sheep farming This is an ideal outing for bird-lovers – look for New Zealand's smallest bird, the rifleman, as well as grey warblers, bellbirds, harrier hawks and gregarious alpine parrots called kea Continue to the top for an exceptional panorama when skies are clear.
DAYS 3-6 Explore Fox and Franz Josef Glaciers, the latter one of the few glaciers in the world that descends into temperate rain forest in an unrivaled mingling of dramatically different ecosystems Soak up superb views of Mounts Tasman and Cook during a hike around Lake Matheson, a kettle lake that originated as an enormous slab of glacial ice 14,000 years ago You'll certainly understand why this pristine lake is one of the most photographed spots in New Zealand! Swap rain forest for pounding surf at Munro Beach and search for pounamu (the native jade) Canoe with a naturalist on Lake Moeraki, or go hiking or swimming.
DAYS 7-9 Climb to the top of Rocky Mountain for incredible views of Lake Wanaka and the surrounding peaks Experience jaw-dropping Milford Sound, New Zealand's most famous fjord, on an optional excursion Ascend Mount Iron, an impressive glacial rock formation Pass through grasslands and forest on your way to the summit, where you can admire a tableau that includes Lakes Wanaka and Hawea, and a patchwork of farms across the valley.
LESS

The Route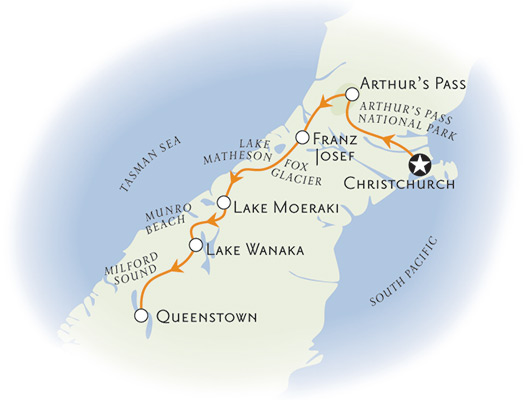 Start with our
vacation planner
so we can match you with our most suitable travel advisor. We do it all for you, air, car, accommodations, tours, you name, it in a seamless luxury vacation experience you will treasure for a lifetime.