The Experience
Mountains, Glaciers & Fjords
Mountains and beaches. Both can be beautiful. Every continent has them. But fjords – now there's originality. And Norway is endowed with an enviable collection. Carved by glaciers, dramatic slopes, soaring cliffs. Be humbled by towering formations on either side as your ferry navigates the waters of Sognefjord, Norway's deepest fjord. It's the perfect complement to the vigorous hikes along the shores through the serene valleys, quiet villages and dense pine forests. Norway welcomes you with happy people, beautiful scenery and a gloriously unique perspective.
Idyllic treks past farms, waterfalls and fertile pastures dotted with wildflowers
Get to know historic Balestrand, an inviting artist village
Enjoy a guided excursion on sparkling Nigardsbreen Glacier
Visit Urnes Stave Church, built in the 12th century
Day 1 Idyllic treks across fertile valleys dotted with wildflowers, farms and waterfalls Visit privately-owned Stalheim Folk Museum, where exhibits depicting Norwegian life from the middle ages to World War II Savor delicious homemade specialties at a local mountain farm.
Day 2 Amble and boat among Norway's incredibly pristine fjords Follow an ancient path once used as a postal road to reach remote outposts Join a local guide and explore the rural landscape to learn more about its flora and fauna Behold Urnes Stave Church, a World Heritage site built in the 12th century Ferry through spectacular Nærøyfjord, Europe's narrowest fjord – this is quintessential Norway!
Days 3-4 Guided excursion on sapphire-blue Nigardsbreen Glacier – get ready to don ice-climbing gear From the charming waterfront community of Fjærland, a steep hike leads to a fantastic vista of Jostedalsbreen Glacier The world-famous Norwegian Glacier Museum is a must-see Which sounds better: a challenging and rewarding hike to the foot of Flatbreen Glacier or a ramble through peaceful Mundal Valley to a magnificent waterfall? The choice is yours!
Days 5-6 Get to know historic Balestrand, an inviting artist village with two burial mounds from the Viking age Sweeping views of the Sognefjord's sparkling waters and surrounding snowcapped peaks await in Balestølen If you're feeling brave, indulge in a post-hike dip in the crisp waters of glacier-fed Sognefjord Enjoy a final dinner at a unique local eatery set in the middle of an orchard.
LESS

The Route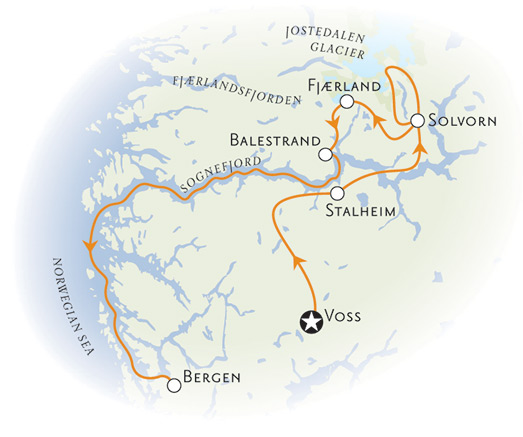 Start with our
vacation planner
so we can match you with our most suitable travel advisor. We do it all for you, air, car, accommodations, tours, you name, it in a seamless luxury vacation experience you will treasure for a lifetime.