The Experience
A Sunny Escape to Gran Canaria & Tenerife
Your list of dream rides? It's about to get longer. This cluster of islands—to which virtually every European cyclist makes a pilgrimage—is now on your radar. Over six satisfying days, savor a comfortable climate and the finest cycling roads imaginable. Ride amid an ever-changing panorama of volcanic mountains, lush forests and glorious seaside. Test your mettle on hearty ascents—or shuttle up and enjoy the ride down. And the balm for your hard-working muscles? Chill-out time on the beach, of course—this is, after all, your vacation. Welcome to your dream bike trip!
Two stunning islands, two rugged volcanoes – including Teide, Spain's loftiest peak
Soak up pleasant temperatures year-round
Enjoy a vast network of quiet, well-maintained bike-welcoming roads
You're in Europe, playing on giant sand dunes? You must be on Gran Canaria!
A wonderful and unique winter bike vacation, unlike any of our other Europe trips
Day 1 Europe's premiere winter destination On Gran Canaria, magnificent views of the volcano, caldera and coast unfold as you spin from a quaint hilltop village to the island's central massif—a region of forests, ravines and the striking volcanic formations of the Tirajana crater Follow undulating terrain to our hotel, which offers stellar vistas of the Gran Canaria caldera.
Days 2-3 Pedal to your heart's content on some of Spain's bike-friendliest roads Point your wheels south, cycling from the island's mountainous volcanic interior to the Atlantic Ocean Arriving in the resort town of Maspalomas, relish views of the white-sand beach and wind-sculpted dunes set against the brilliant blue ocean—a glorious finale to your ride.
Days 4-6 Diverse natural settings, from Spain's highest peak to idyllic beaches Bienvenidos a Tenerife! After a short flight to this ruggedly beautiful isle, we shuttle up Teide Volcano, a World Heritage site Of course, if you're ready for a challenge, you can tackle part of the climb on two wheels Cycle through a lunar lava landscape with epic ocean views Cruising past banana plantations and fishing villages, arrive in the charming old seaside town of Garachico with time to wander its cobblestone streets From the small village of Masca, experience Tenerife's most dramatic terrain, with cliffs plunging straight into the ocean—and plenty of thrilling switchbacks to keep you on your toes Enjoy a final leisurely spin along the Atlantic coast.
LESS

The Route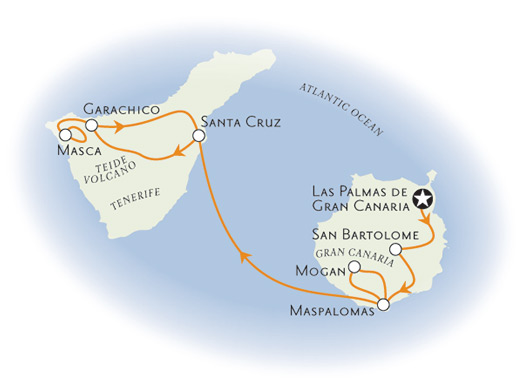 Start with our
vacation planner
so we can match you with our most suitable travel advisor. We do it all for you, air, car, accommodations, tours, you name, it in a seamless luxury vacation experience you will treasure for a lifetime.