The Experience
Uncover the mysterious pasts of extraordinary cities—places linked by their legendary art, architecture, rituals, and scenic wonders. Travel by private jet with a team of world-class experts and professional staff for a level of service and convenience that makes this journey a truly unforgettable experience.
Discover a wealth of Uzbekistan's craftsmanship at the National Museum
Visit the lavishly ornamented Potala Palace, once the winter residence of the Dalai Lama
Explore the shimmering halls of Luang Prabang's Royal Palace
See the glittering Shwedagon Pagoda, the world's largest reclining Buddha, and Bokyoke Market
Head to bustling Kathmandu to visit the ancient Bodnath Stupa and the ancient city of Bhaktapur
See the Taj Mahal, the Mughal Empire masterpiece on the Yamuna River
Explore the Lost City of Petra, half-built, half-carved into red cliffs
Day 1Madrid, Spain
Upon arrival you will be escorted to your luxury hotel. Meet fellow travelers and the expedition staff for a festive welcome dinner.
Award-winning hotel Hotel Ritz, Madrid
Day 2 & 3Baku, Azerbaijan
Baku is an exciting mix of ancient structures and modern life. Highlights of our visit include the walled city with Shirvanshah's Palace and Maiden Tower, a UNESCO World Heritage site.
Four Seasons Hotel Baku, Baku
Day 4 & 5Samarkand, Uzbekistan
Rich in history and architecture, we visit Registan Square, Bibi Khanum Mosque, and view Uzbek art at the National Museum.
Registan Plaza Hotel, Samarkand
Day 6 – 9Kathmandu, Nepal and Lhasa, Tibet
Spend two nights in Kathmandu. Where you visit Bodnath and Bhaktapur. The next morning, fly to Lhasa, or choose to visit Chitwan National Park for an elephant-back safari.
Dwarika's Hotel, Kathmandu
St. Regis Lhasa Resort, Lhasa
Day 10 – 12Luang Prabang, Laos
Explore Luang Prabang's golden temples, the shimmering halls of the Royal Palace and the city's charming French colonial boulevards.
Amantaka, Luang Prabang
Award-winning hotel La Residence Phou Vao Hotel, Luang Prabang
Day 13 – 16Bagan, Inle Lake & Yangon, Myanmar
Take a charter to Bagan to explore the land of a thousand temples. We visit floating villages along Inle Lake, then return to Yangon to see the Shwedagon Pagoda.
Aureum Palace Villa, Bagan
Aureum Resort & Spa Inle, Inle Lake
Sule Shangri-La, Yangon
Day 17 – 19Agra and Udaipur, India
See the Taj Mahal, towering above the banks of the Yamuna River, then we're off to Udaipur to visit palaces that rise over Lake Pichola.
Award-winning hotel The Oberoi Udaivilas, Undaipur
Day 20 & 21Petra or Dead Sea, Jordan
Next we explore the Lost City of Petra. Walk through the Siq, a narrow chasm in the bedrock to enter ancient world. Or float in the mineral-rich Dead Sea.
Kempinski Hotel Ishtar Dead Sea, Dead Sea
Mövenpick Resort Petra, Petra
Day 22-23Madrid & Depart for Home
Return to Madrid, where we overnight at our hotel. The following morning you are transferred to the airport for your flight home or on to your next destination.
Award-winning hotel Hotel Ritz, Madrid
LESS

The Route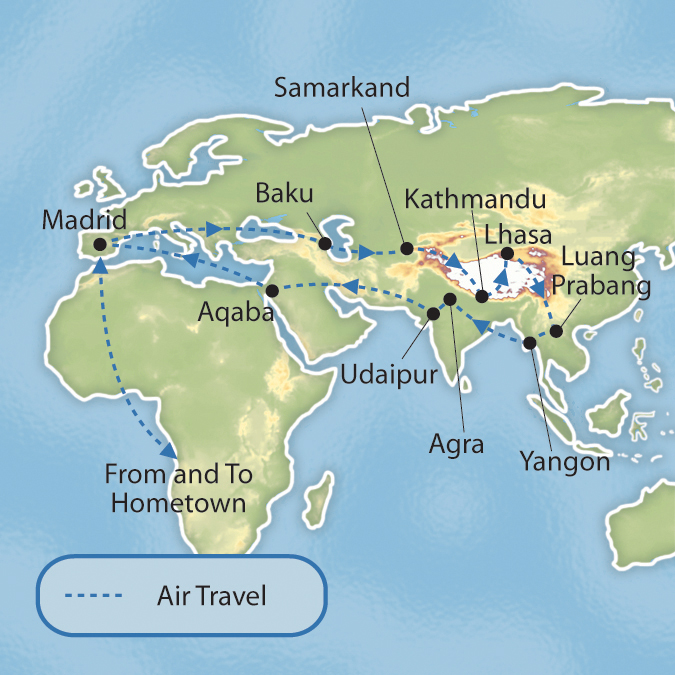 Start with our
vacation planner
so we can match you with our most suitable travel advisor. We do it all for you, air, car, accommodations, tours, you name, it in a seamless luxury vacation experience you will treasure for a lifetime.