The Experience
From Barcelona to Mediterranean Beaches & Catalonia's Peaks
Put one foot in front of the other. Feel the crunch of pine needles beneath your shoes. The sun's warmth on your face. Repeat. The perfect rhythm to another perfect day. It's simple to settle into this pace. To amble amid high cliffs, heavenly Costa Brava beaches and immense Pyrenees massifs as if there's no separation between the landscape and your leisurely swinging limbs. Medieval towns unsullied by time. Whitewashed fishing villages. Curvaceous calas (coves) and an azure sea. Walking in Catalonia. One of travel's most perfect pleasures.
Relais & Châteaux luxury each and every night
Walk the Costa Brava's ancient footpaths from cliffs to secluded coves
Sun-kissed Catalan wines and authentic Pyrenees cuisine
Gaze in awe at rugged peaks and shimmering lakes
Breathtaking limestone cliffs and verdant meadows in Cadí-Moixeró Nature Park
DAY 1 Relais & Châteaux luxury each night, starting at the incomparable Mas de Torrent Following a rocky trail, ascend through an arid Mediterranean landscape on the sprawling Montgrí Massif to medieval Montgrí Castle for spectacular views of the Pyrenees, the Mediterranean Sea and charming towns below.
DAY 2 Walk the Costa Brava's ancient footpaths from cliffs to secluded coves Half-moons of white sand and crystal clear water cupped by forested hillsides – these beaches are simply sublime Linger over a seafood lunch in a sleepy fishing village Explore Cap Roig Botanical Garden, where multicolored flowers bloom on terraces descending from a hilltop castle to the sea.
DAYS 3-4 Gaze in awe at the rugged peaks and shimmering lakes of the high Pyrenees Visit Montgrony sanctuary, set on a dramatic cliff Cross the border into France for a hike that leads over stone bridges to the scenic Bouillouses Lake Savor acclaimed sun-kissed Catalan wines – dry white varietals and robust reds, all nurtured by the mild Mediterranean climate.
DAYS 5-6 Trek through Cadí-Moixeró Nature Park along pine-clad slopes and enjoy far-reaching vistas of the Cadí Valley Relax over a gourmet Backroads picnic in the Bastanist Valley Up for one last hike? Set out early for a ramble across the rolling terrain of the Segre River Valley to a pair of atmospheric villages.
LESS

The Route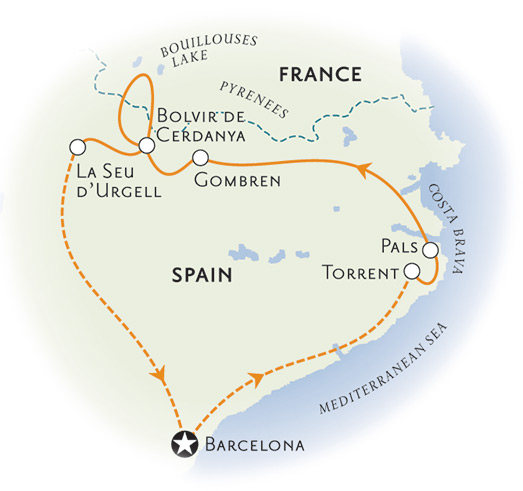 Start with our
vacation planner
so we can match you with our most suitable travel advisor. We do it all for you, air, car, accommodations, tours, you name, it in a seamless luxury vacation experience you will treasure for a lifetime.