The Experience
Exploring the Golden Triangle near Laos & Myanmar
Language barrier, embrace it. Travel guide book, dump it. Fear of street food, chuck it. Liberate yourself from all that. Wake up expecting anything. Mai pen rai (no worries). Because "hey, you're in Thailand." Bike an uncharted oxcart path among lush rice paddies and garlic fields. Be startled by an ornate Buddhist temple quietly sitting in the middle of a jungle-filled valley. Relish a truly homemade curry and stare at the jagged limestone hills that have not changed for thousands of years. Say to yourself, "Is it Tuesday?" Even that doesn't matter because you're in Thailand. So mai pen rai.
Bike gorgeous backcountry lanes through remote villages, where school kids rush out to greet you
Jungle trek aboard an elephant – hold on!
Intriguing interactions with Buddhist monks at ornate temples
Float down the Maekok River in traditional long-tail boats
A fascinating convergence of Thai, Laotian, Burmese and Chinese cultures
DAYS 1-2 Receive a blessing from the village elders and visit with the resident monk Meet Ghing, our Thai guide who knows the back roads of northern Thailand better than anyone Ride into the countryside on hard-packed paths, cutting through thriving rice and garlic fields, and stands of papaya and teak.
DAYS 3-4 Bike gorgeous backcountry lanes through remote villages, where schoolchildren rush out to greet you Beneath the White Buddha, offer alms to monks at sunrise Fall for the handmade jewelry at an Akha hilltribe village A scenic descent leads to the trading center of Fang and temple-rich Thaton Savor Thai cuisine at an atmospheric café – and find inspiration for your upcoming cooking class.
DAY 5 Float in long-tail boats down the Maekok River Pedal on narrow lanes past small villages into vibrant Chiang Rai Embark on a culinary adventure, wandering the streets of Chiang Rai and sampling some of Thailand's unique delicacies and delicious street food.
DAYS 6-8 A fascinating convergence of Thai, Laotian, Burmese and Chinese cultures Stride through the jungle on an elephant- hold on tight! Bike alongside the Mekong River on the Laos and Myanmar border, passing tobacco fields and rice paddies on the way to the ancient Burmese kingdom of Chiang Saen Relax poolside, indulge in a massage or spin to the spectacular Chom Kitti temple Browse Sop Ruak's market for delectable Thai iced tea and one-of-a-kind handicrafts.
LESS

The Route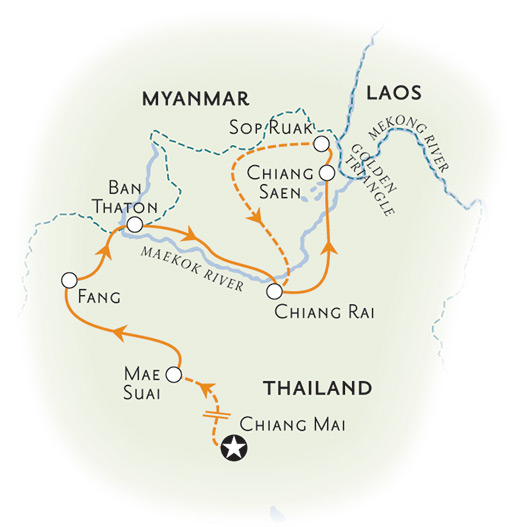 Start with our
vacation planner
so we can match you with our most suitable travel advisor. We do it all for you, air, car, accommodations, tours, you name, it in a seamless luxury vacation experience you will treasure for a lifetime.