The Experience
From the Northeast Kingdom to the Eastern Townships & Québec City
Perfection cannot be rushed. Just ask anyone in Vermont or Québec. They know their sublime Northern Appalachian landscape didn't turn up overnight. It took eons. Continents collided. Glaciers scraped. Weather scoured. Each step doing its part to create a masterpiece of rolling hills, lush serene valleys and pristine lakes. Logical really, that the best things in life take time. Like biking through this untouched part of North America. Savoring fresh air. Hand-pressed apple cider. Winding roads. Handicrafts. The perfect vacation. Two countries and cultures; one trip of idyllic mountains, valleys and lakes Bike quiet rolling roads past classic New England farms, maple syrup stands and covered bridges Québec's enchanting Eastern Townships, where artisans abound and French is spoken Taste maple syrup, fresh cheeses, foie gras, apple cider and other local delights Québec City, with impressive architecture and French heritage – why not extend your trip to see it?
DAYS 1-2 Bike through quintessential Vermont, with classic New England scenery Idyllically set Stowe invites you into its historic downtown, full of handcrafted furniture and specialty foods Pedal on peaceful roads, passing farms, forested mountains and tranquil lakes. DAY 3 Covered bridges and babbling brooks line our route north through the sleepy communities of Waterville, Belvidere and Montgomery Center Make your way up winding roads to Jay Peak and feast your eyes on sweeping vistas of Long Trail State Forest. DAY 4 Spin through Québec's enchanting Eastern Townships, where artisans abound and French is spoken Trace the eastern shore of beautiful 27-mile-long Lake Memphrémagog, rumored to harbor a sea creature Mont Orford rises above this verdant glacier-carved landscape Cycle past charming summer homes and an endless shimmering lake. DAYS 5-6 Warm Québecois culture and mouthwatering cuisine, including fresh cheese, apple cider and duck foie gras Ride south through gorgeous valleys and past sparkling lakes, picturesque farms, craftsmen's stores and quaint villages In North Hatley, browse delightful galleries and antiques shops Shuttle back to Burlington or on to Québec City, North America's only remaining fortified city, with impressive architecture, cobbled streets and French heritage
LESS

The Route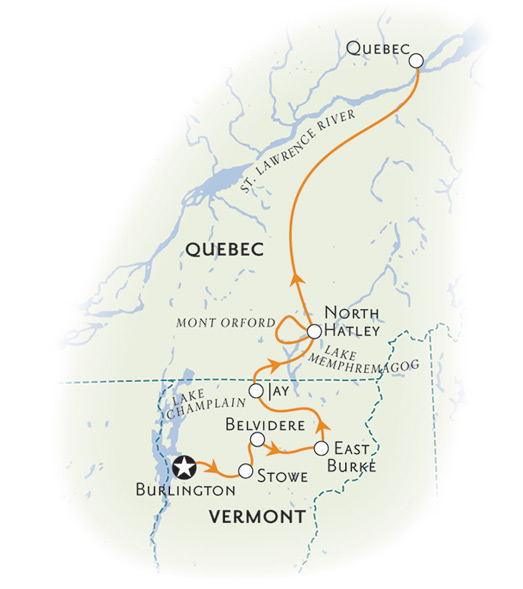 Start with our
vacation planner
so we can match you with our most suitable travel advisor. We do it all for you, air, car, accommodations, tours, you name, it in a seamless luxury vacation experience you will treasure for a lifetime.