The Experience
Yosemite National Park Discovery Private Tour Vacation
California (San Francisco, Yosemite National Park)
5 day custom made vacation from $3 996 pp*
The Giant Sequoias of the Mariposa Grove have stood in silent sentry for more than 2,000 years, and as you stroll beneath the 210-feet high canopy you'll experience Mother Nature at her most majestic.
En route to Yosemite National Park from San Francisco, you'll stop in the fertile San Joaquin Valley where manicured vineyards extend across vast plains to the snow-capped mountains that loom on the horizon. At Mariposa Grove in the southernmost part of Yosemite, you'll find hundreds of Giant Sequoias – including the 210-feet tall 'Grizzly Giant' that's thought to be up to 2,400 years old. Elsewhere in the park, choose to hike down into the one-mile-deep Yosemite Valley to explore its dense forests and soaring granite cliffs, take the extreme hike to the Half Dome, and take in views of the highest measured waterfall in North America.
Yosemite is one of the finest National Parks in the world, and this excellent trip provides an immersive experience of this wilderness paradise. Your experienced team of local guides will lead you deep into the park to reveal its most spectacular vantage points, and your private drivers will ensure you travel between the park's many highlights in complete comfort. Your collection of hotels will also keep your comfort levels high as they strive to meet your every need.
Enjoy a personalized vacation that best suits your needs, developed by one of our experienced destination experts. Relax during your trip with our 24/7 support and expert local guidance
Day1,San Francisco
•Transfer – Private – Airport – Vehicle/Driver
Grand Hyatt San Francisco
Day 2, San Francisco to Yosemite National Park
•Transfer – Private – San Francisco – Yosemite National Park [with Mariposa Grove & Yosemite Valley] – Vehicle/Driver-Guide
Ahwahnee Hotel
Day 3, Yosemite National Park
•Private – Glacier Point & Yosemite Falls Tour – Vehicle/Driver-Guide
Ahwahnee Hotel
Day, 4 Yosemite National Park to San Francisco
•Transfer – Private – Yosemite National Park – San Francisco [with Ansel Adams Gallery Visit, Groveland & Hetch Hetchy] – Vehicle/Driver-Guide
Grand Hyatt San Francisco
Day 5, San Francisco
LESS

The Route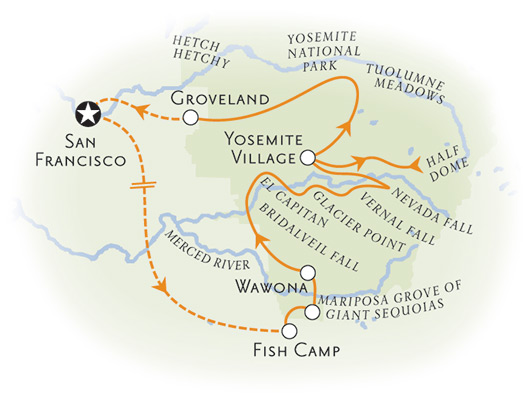 Start with our
vacation planner
so we can match you with our most suitable travel advisor. We do it all for you, air, car, accommodations, tours, you name, it in a seamless luxury vacation experience you will treasure for a lifetime.