The Experience
It feels like the end of the earth… or the beginning of it. Two legs take you to places that few humans have seen. Glaciers sheer down mountainsides to waters brimming with sea life. Poets fish – and fishers write poetry – in the coastal town of Homer. You marvel as Kachemak Bay shows you all its weather, or at the rushing waterfalls and endless wildflower fields on hikes throughout the Kenai Peninsula. Your sense of the wilderness will never be the same after this.
The hike of a lifetime along Exit Glacier to staggering views of Resurrection River Valley and Harding Icefield
Boat across Kachemak Bay, then trek to amazing Grewingk Glacier
Visit the coastal towns of Homer and Seward, brimming with Alaskan character
Watch for black bears, marmots and moose
Alpine grandeur surrounds you on the hike to lofty Crow Pass
DAY 1 Homer, one of Alaska's most scenic towns: see for yourself why it was nicknamed "The End of the Road" Hike along bluffs overlooking town and the dramatic Kachemak Bay, a 40-mile-long arm of the Cook Inlet famous for its extreme tides.
DAY 2 Trek to amazing Grewingk Glacier, where you may spot caribou and Dall sheep En route to Glacier Lake, you're surrounded by Kachemak Bay State Park's 400,000 acres of wilderness, reachable only by air and sea Care to meet some water-loving locals? Sea otters, porpoises, loons and bald eagles may say hello.
DAYS 3-4 Sensational Exit Glacier and Harding Icefield Enjoy the wildflowers on a steep but rewarding hike to stunning Carter Lake The picturesque town of Seward invites a wander The hike of a lifetime along Exit Glacier leads to staggering views of Resurrection River Valley and Harding Icefield, a glacier spanning more than 900 square miles Keep your eyes out for moose, bears and marmots in the dense forest of Kenai Fjords National Park.
DAYS 5-6 Hike to Crow Pass for a closer look at the Raven Glacier, following a route that was once part of the historic Iditarod Trail Experience Alaska's dramatic temperatures as you climb to snow-laden heights Follow Winner Creek through the temperate coastal forest of Cook Inlet while snacking on wild blueberries.
LESS

The Route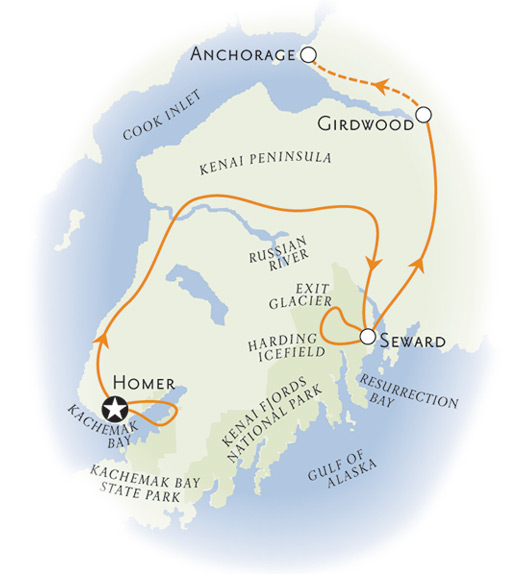 Start with our
vacation planner
so we can match you with our most suitable travel advisor. We do it all for you, air, car, accommodations, tours, you name, it in a seamless luxury vacation experience you will treasure for a lifetime.